I work for an independent book store, A Cappella Books, in Atlanta and, in addition to working in the store, I plan and execute book readings. Today I had the pleasure of finally meeting Stephen & Rebekah Hren, authors of The Carbon-Free Home: 36 Remodeling Projects to Help Kick the Fossil-Fuel Habit. Generally I'm not too psyched about the "green" books out on the market. "Being green" has reached fad magnitude, and even though I appreciate folks wanting to live more sustainably, some of the ideas and projects out there aren't cost-efficient or energy-efficient.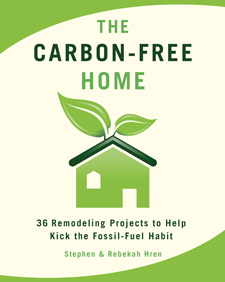 Stephen & Rebekah are two of the most down-to-earth super-friendly people I've met in awhile. I loved chatting with them about projects and how to keep my extremely hot apartment cool in the summer. One idea is to plant a deciduous vine like a grape vine in window boxes on my East-West windows. Using bamboo poles to form a trellis up the window, the vine will block out summer sun and then let in winter sun because the leaves will have fallen. Not only is it a cute idea, it's a cool one! (Pun sooo intended.)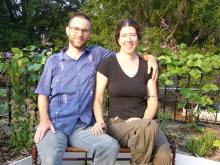 I definitely recommend this book to anyone interested in cost and energy efficient DIY earth-friendly retrofitting of their house or apartment. Tons of the ideas are renter-friendly, and I'm totally enamored with the grow your own mushroom or potato barrel ideas. Seriously, in the food section, they tell you how to grow tasty mushrooms (Rebekah said they just harvested shitake mushrooms!), and plant a bucket with potatoes. I'm definitely going to try out the potato bucket idea, since 2nd harvest plants in mid-late August.
If you're interested in buying the book, you can get copies off Amazon or signed copies through A Cappella (scroll down the schedule list and "add to cart;" then specify in an e-mail that you want a signed copy).